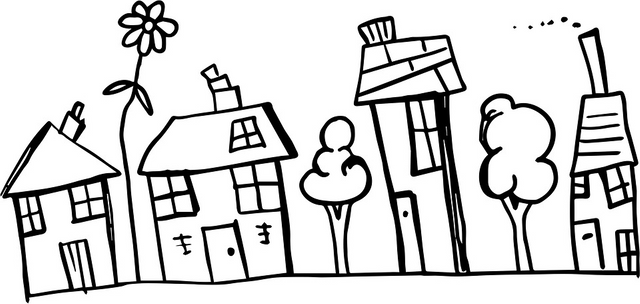 Source
This is my entry to the New Nonsense Writing Contest contest sponsored by rycharde.
Would you like to participate in this initiative? Visit his blog

My three street town
I live in a town that has three streets. Here, you exit through the entrance and enter through the exit. In the middle, we don't go, because there people live and behave strangely.
In our town we all have houses, but we don't sleep in them. We slept outside in the square, but who in their right mind uses houses to sleep?
In my town, people write in stone. Paper is used to cover the walls. Rats chase cats. Dogs tremble when they see a cat. Women decorate their necks with rattlesnakes and use pearl necklaces as chains to secure their doors. They paint their lips with charcoal and use the lipstick as pencils to write on the stones.
Our vehicles do not have seats or motors. We push the vehicles and at each stop we take turns. Our professionals sweep the streets and the workers wear a tie and work in offices.
If one day you want to come to visit us, we advise you to be careful, because the entrance is the exit and the exit is the entrance, as I told you a while ago. Fortunately, a visitor caused a serious accident and was punished with the worst fines in my city: patting on the shoulder. A really painful and shocking fact for us.
And it is that for us a slap is a great sanction and a shout is a warm congratulation or welcome, but how else could it be? The wakes are another story in my little town. In our wake, do not cry and scream disdain. No. We laugh and dance, because for us that is cause for celebration.
This is how we live in our great town, we are really sad, which here is equivalent to being happy. Not like in the middle street that lives suffering bitterly all the time, because they live happily and so you can't live.
When you want you can come to visit my town, but remember we have three streets: the entrance is the exit. The exit is the entrance and strange people live in the middle street.
The beginning, It's that in my town the stories don't end…

The separator was prepared by me in powerpoint.